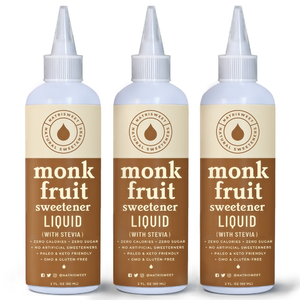 Get Started on A Healthy Lifestyle with Our Monk Fruit Sweetener
Ditch the sugar cubes, refined sugar, sugar sticks, sugar syrup, and sugar sprinkles you put into your desserts and drinks and choose Natrisweet liquid drops instead. Start saying no to added sugars and yes to delicious monk fruit with our Monk Fruit sweetener liquid. With a travel-friendly bottle, you can use our sugar-free sweetener whenever you want.
Natrisweet Monk Fruit keto drops provide a naturally sweet taste free of artificial flavors, and no added sugar. Experience the pure flavorful monk fruit goodness.
Why Choose NatriSweet Liquid Monk Fruit?
- 200 times sweeter than sugar
- a little goes a long way; provides up to 911 servings
- zero glycemic index, zero calories, zero carbohydrates
- no artificial flavor or bitter aftertaste
- no erythritol, xylitol, maltodextrin, or regular sugar
Works Great With
tea, coffee, cocktail drinks, yogurt, cereals, oatmeal, pastries, smoothies
Mix and blend it with your ready-to-drink chocolate shake, iced lemonade, coconut juice, lemon soda, vanilla drink, orange smoothie, cocoa protein shakes, and anything else you think deserves a touch of natural sweetness. You can also use it as a food enhancer and muscovado alternative to homemade candy, choco cereal, pancake, caramel icing, cinnamon rolls, English breakfast with egg, granola, toffee dessert, caffeine-free baked goods, and others. Now, you can make a simple sauce, jam, and a whole lot more taste better with our pure Monk fruit liquid. It also makes for a perfect maple syrup or sugar substitute that keeps your tastes buds buzzing and your body nourished. Kick high-calorie sugars and syrups to the curb and stay skinny with zero-calorie, zero-carb, all-natural Monk Fruit.